Last week, ABclonal Technology set foot on the "Land of the Rising Sun" to attend the 17th International Biotech and Life Sciences Exhibition & Conference. One of our technical sales specialists from the Boston office, Giovanni Musto, joined our colleagues in Japan for the exhibition. Here are some highlights from his trip.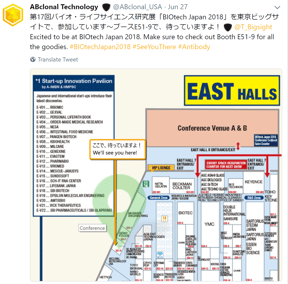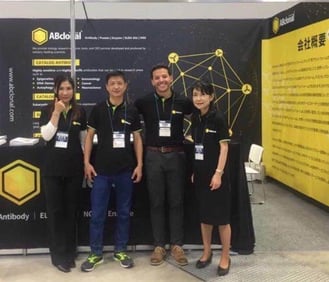 1. Bowing
Japan is known for its good manners and courtesy. One of the ways the Japanese population shows respect is through different types of bowing: informal, formal, and very formal -- or as Gio puts it, the head nod, rapid-fire bow, and the deep, slow bow. Gio became a professional head bower as the rapid-fire bow in case his "motion sickness would just act up and might just pass out."
2. Learning Japanese
Being in a country with language barriers for the first time is intimidating and Japanese isn't the easiest language to learn, but we tried nonetheless. Some of the words include "hello (complete with the head nod)," "yes," "no," and "you're welcome."

The local public really appreciated the effort despite our patchy pronunciation.
3. Convenience Stores
One thing that surprised Gio was quality of food from convenience stores. "In America, convenience stores are not known for their food," Said Gio, "they're known for their food poisoning. In Japan, you pick up something for five bucks and it's a meal, a real meal."
4. Midnight Fish Market
In accordance with true jet lag spirit, Gio made a visit to the Tsukiji Fish Market at 3 a.m., the largest fish market in the world.

5. Rabbit Monoclonal Antibody
Researchers in Japan were very interested in rabbit monoclonal antibodies (mAb) in general and especially ABclonal's ability to produce customized rabbit mAb. Apart from rabbit antibodies being superior to mouse antibodies in general, it is also hard to find rabbit mAb services in Japan. Feel free to learn more about our rabbit monoclonal antibody services from our website.