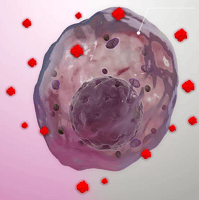 Oxidative stress is an imbalance between the production of reactive oxygen species (free radicals) and antioxidant defenses. [1] The body's cells produce free radicals, which are nitrogen- or oxygen-containing molecules with an uneven number of electrons [2], during normal metabolic processes. [3] Meanwhile, cells also produce antioxidants that neutralize these free radicals to prevent excessive cell and tissue damage. In general, the body is able to maintain a balance between antioxidants and free radicals. [3] However, this balance could be disrupted under certain conditions or environmental stress or infection, and uncontrolled oxidative stress can accelerate the aging process.[3]
Effects of Oxidative Stress on the Body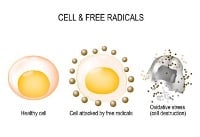 Free radicals play an essential role in several biological processes. Many of these are necessary for life, such as the intracellular destruction of bacteria by phagocytes, especially by granulocytes and macrophages. [4] Consequently, an excessive production of the free radicals determines structural modification of cellular proteins and the alteration of their functions, leading to cellular dysfunction and disruption of vital cellular processes. [5][6] Oxidative stress therefore could create damage to fatty tissue, DNA, and proteins in an individual's body [2], contributing to a series of diseases, such as diabetes, atherosclerosis, inflammatory conditions, high blood pressure, and could even promote cancer development. [2] Factors leading to oxidative stress include a diet high in sugar, fat, and alcohol, as well as an environment with high pollution and radiation. [2][3]
Source: MedicineNet
How ABclonal Can Help
Although much research is performed to alleviate the effects of oxidative stress on the cells and body, many scientists have also began to consider this phenomenon as an exploitable resource in treating diseases such as cancer and cardiovascular disorders. To assist you in your studies of free radicals, antioxidants, and how the body responds to oxidative stress, ABclonal offers a wide array of antibody products targeting the enzymes and markers associated with the maintenance of reactive oxygen species. A selection of our catalog is shown in the table below.
Category

Target

Cat.No.

Product Name

ROS production

NADPH oxidase (NOX)

NOX2/gp91phox Rabbit mAb

NOX4 Rabbit mAb

Nitric oxide synthase (NOS)

Phospho-eNOS-S1177 Antibody kit

Cycloxygenase (COX)

COX1 Rabbit mAb

Lipoxygenase (ALOX)

ALOX5 Rabbit mAb

Xanthine oxidase (XOR)

Xanthine Oxidase Rabbit mAb

Cytochrome P450

Cytochrome P450 17A1 Rabbit mAb

Cytochrome P450 2D6 Rabbit mAb

Antioxidases

Superoxide dismutase (SOD)

SOD1 Rabbit mAb

SOD2 Rabbit mAb

Catalase (CAT)

Catalase Rabbit mAb

[One Step] CAT Antibody Kit

Glutathioneperoxidase (GPX)

GPX1 Rabbit mAb

GPX4 Rabbit mAb

Peroxiredoxin (Prdx)

PRDX1 Rabbit mAb

Peroxiredoxin 2 Rabbit mAb

[KO Validated] PRDX2 Rabbit pAb

PRDX5 Rabbit mAb

Thioredoxin reductase (TrxR)

TXNRD1 Rabbit mAb

TXNRD2 Rabbit mAb

Glutaredoxin (Grx)

GLRX3 Rabbit pAb

Heme oxygenase 1 (HO-1)

Heme Oxygenase 1 Rabbit mAb

NAD(P)H reductase 1 (NQO-1)

NQO1 Rabbit mAb

GSH generation

Glutamate-cysteine ligase,catalytic subunit (GCLc)

GCLC Rabbit mAb

GCLC Rabbit pAb

Glutamate cysteine ligase, modifier subunit (GCLm)

GCLM Rabbit mAb

GCLM Rabbit pAb

Glutathione synthetase (GSS)

Glutathione Synthetase Rabbit mAb

[KO Validated] GSS Rabbit pAb

Glutathione reductase (GR)

GSR Rabbit mAb

NADPH generation

Isocitratede hydrogenase 1 (IDH1)

IDH1 Rabbit mAb

IDH1 Rabbit pAb

Malic enzyme 1 (ME1)

ME1 Rabbit pAb

Glucose-6-phosphate dehydrogenase (G6PDH)

G6PD Rabbit mAb

Glutamate hydrogenase (GLUD)

GLUD1 Rabbit mAb
References
Finkel, T., and Holbrook, N. J. (2000). Oxidants, oxidative stress and the biology of ageing. Nature 408, 239–247. doi: 10.1038/35041687
Kaminski, K. A., Bonda, T. A., Korecki, J., and Musial, W. J. (2002). Oxidative stress and neutrophil activation—the two keystones of ischemia/reperfusion injury. Int. J. Cardiol. 86, 41–59. doi: 10.1016/s0167-5273(02)00189-4