CTCF (CCCTC Binding Factor) is a highly conserved transcription factor that regulates transcriptional activation, transcriptional repression, insulator function, and imprinted control regions (ICRs).
CTCF is involved in the transcriptional regulation of cell growth regulatory genes, including c-myc, p19/ARF, p16/INK4A, BRCA1, p53, p27, E2F1, and TERT. It is essential for the inhibitory activity of the aforementioned enhancers. CTCF also combines all known insulator elements and ICRs.
The various functions of CTCF are regulated by at least two different post-translational modifications. In addition to blocking enhancers, CTCF acts as a chromatin barrier to prevent the spread of heterochromatin. The human genome has nearly 15,000 CTCF insulator sites, indicating that CTCF has a wide range of functions in gene regulation. Moreover, the CTCF binding site can also serve as a nucleosome positioning anchor. Recent studies have used advanced 3D genome mapping strategies to reveal the relationship between chromatin protein CTCF and cohesin-mediated topological structure of the human genome as well as transcriptional regulation of genes completed by RNA polymerase II. This helps to identify which specific nucleotide changes in the human genome drive the disease by altering the genomic topology.
ChIP-grade CTCF Polyclonal Antibody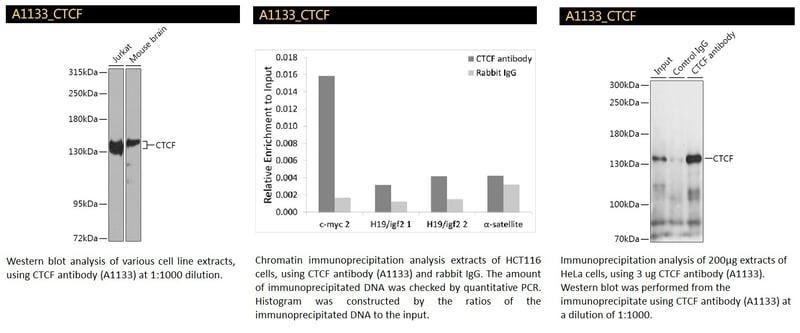 TP53 Polyclonal Antibody

BRCA1 and CDKN1B Polyclonal Antibodies