Astrocytes are specialized glial cells with distinct morphology that are found in the central nervous system, playing a role in brain and nerve cell development and the formation of synapses. Mature astrocytes respond to many stress signals and are responsible for many essential complex functions in the healthy brain, allowing the maintenance of proper homeostasis through ion flow, signaling, and the recycling of neurotransmitters. Astrocytes that are irregularly activated may result in various neurological disorders, including Alzheimer's disease and Huntington's disease.
Glial fibrillary acidic protein (GFAP) is an intermediate filament protein that is mainly found in astrocytes. It is also expressed in chondrocytes, fibroblasts, myoepithelial cells, lymphocytes, and hepatic stellate cells.
GFAP is involved in the formation of the cytoskeleton, which is often rearranged in cancers to promote migration and metastasis, and maintains its tensile strength. In addition, GFAP and vimentin (VIM) regulate the formation of vimentin fibrils – hence, regulating the shape and function of the intermediate filament. Therefore, GFAP is often used as a marker for astrocytic intracranial and intraspinal tumors. GFAP antibodies are widely used for the immunostaining of astrocytes and as the loading control for astrocytes during Western Blot.
Please peruse our wide selection of neuroscience antibodies for the study of normal neuron function, growth, differentiation, and the development of treatments against nervous system diseases and brain cancers. Perhaps one day, science will leverage astrocyte function to act as a therapy against these debilitating illnesses!
GFAP Antibody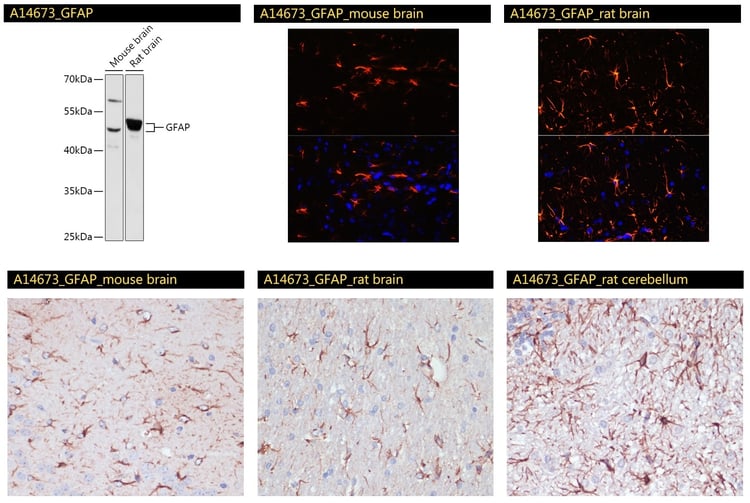 KO-validated VIM Antibody