The nucleosome consists of an octamer composed of four histones (H2A, H2B, H3, and H4) and a DNA entangled with 147 base pairs. The core of the histones constituting the nucleosome are roughly the same, but the free N-terminus can be subjected to various modifications.
The most studied modifications are methylation and acetylation. Histone methylation is a major determinant of the formation of active and inactive regions of the genome and plays a key role in the correct programming of the genome during development. Histone methylation of histones H3 (2, 17, 26) and H4 (position 3) promotes transcriptional activation and is mediated by a family of protein arginine methyltransferases (PRMTs). Lysine methylation occurs mainly in histone H3 (4, 9, 27, 36, 79) and H4 (20) and has been implicated in transcriptional activation and silencing.

TriMethyl-Histone H3-K9 Polyclonal Antibody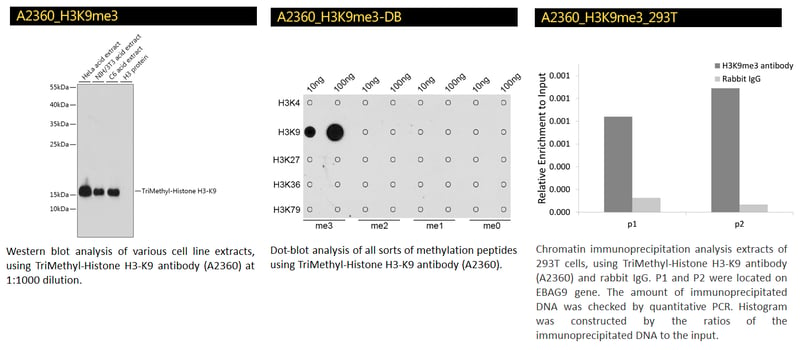 TriMethyl-Histone H3-K4, H3K27, H3K36 Polyclonal Antibodies
Acetyl-Histone H4K8 and H3-K27 Polyclonal Antibodies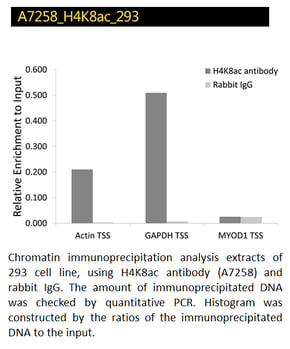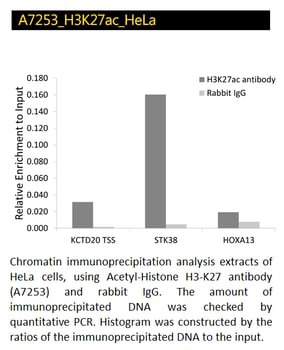 Histone H3 Polyclonal Antibody
The histone H3 antibody can be used as loading control for your histone modification research.