Although underappreciated, the Golgi apparatus is indispensable to normal cellular function by ensuring proteins are properly folded and sorted, and to direct diverse functions including autophagy. Disruptions to proper Golgi function can lead to many disease states, including diabetes, cancer, and neurodegenerative disorders such as Alzheimer's disease. The study of vesicular markers, including Golgi markers, is critical to our understanding of this amazing organelle's function in keeping the cell and organism healthy. Clarifying the mechanisms by which proteins are properly folded, sorted, quality controlled, and transported will prove important as more effective therapies are developed against a diverse array of human diseases.
We have previously explored the function of organelle markers USO1, GOLGA2, and GOLM1 but not how the corresponding antibodies can be applied in research. Organelle marker antibodies are common tools in cell biology research. They can be used with immunofluorescence technology to observe the morphological structure of organelles and understanding the subcellular localization of proteins. In turn, they help to explore the biological functions/role of organelle proteins in normal or disease models. These markers can also be used in Western blot (WB) experiments examining organelle extracts: as a positive control to determine whether the organelle is successfully extracted.
You can see some examples of ABclonal Technology's Golgi marker antibodies below. These are only a handful of the huge selection of targets that you can use to supplement your cutting-edge research!
USO1 Polyclonal Antibody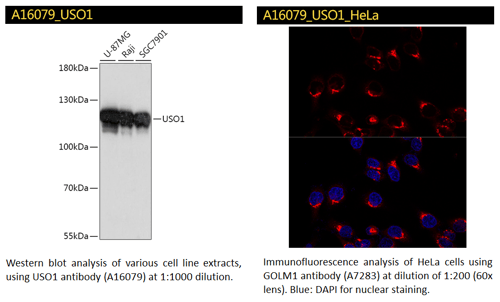 GOLM1 Polyclonal Antibody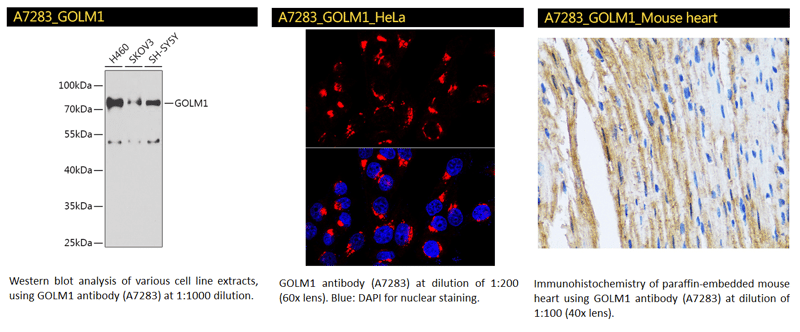 GOLGA2 Polyclonal Antibody